The Original Version of "Hound Dog" (1953)
There's no disputing that Elvis Presley's recording of "Hound Dog" is a monumental classic…but something about it just doesn't feel right.  Does it bother anyone else that the lyrics don't make sense?  "Well, you ain't never caught a rabbit, and you ain't no friend of mine."  Huh?  (Well, first of all, that's about a quadruple-negative.)  To whom was he singing?  And what are we to make of this strange criterion Elvis was using to select his friends?  "Let any man who has caught a rabbit step forward and be welcomed…else he shall earn no favor with The King."  (Shrug?)  But, okay…no problem.  We'll go there with you, Big E, and we'll overlook almost any lyric as long as it has that early brand of rock and roll blues behind it.
We can't really blame Elvis. His rock and roll version grew out of a goofy adaptation he had picked up from a Vegas lounge singer named Freddie Bell. Even at the very beginning of his career, the empty glitz of Las Vegas, which would cheapen the unhappy final years of Elvis's legacy, was already proving to be a bad influence.
The Elvis version was a hit in 1956…ancient days on the rock and roll timeline.  The original version is even older, released three years earlier by Big Mama Thornton, and when you hear the original lyrics, you understand why Elvis's version doesn't make sense:  this song was written from a woman's point of view.  The "hound dog" in question is a freeloading scoundrel who has worn out his welcome "snooping around my door" whenever he's in the mood for a free meal or a…well, I shouldn't really say.  It was the '50s, after all, and certain things just weren't discussed in polite company.  The songwriters, Jerry Leiber and Mike Stoller, were none-too-pleased that the version of their masterpiece getting all the attention was, basically, a novelty song…fun but nonsensical.
Big Mama Thornton was a large-and-in-charge kind of gal, and when she tells Mr. Hound Dog she ain't gonna feed him no more, she don't mean maybe.  Here's the original, in all its glory…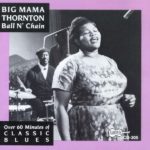 "Hound Dog"
Big Mama Thornton