"Can't You See" – The Marshall Tucker Band
Thanks to Classic Rock radio stations and movie soundtracks, songs we used to love have been overplayed until we're sick to death of them.  By all measures, "Can't You See" by The Marshall Tucker Band should be one of those songs.  I've heard it about fifty-hundred times, but I have never gotten tired of it.  I recently saw a video of a live performance from 1973 (the year it was released), and I was reminded why this song works so well.
Side note:  Did you know that there is no one in the band with the name Marshall Tucker?  How did I not know this?!  The lead singer was Toy Caldwell.  Marshall Tucker was the name of the blind piano tuner who worked at the rehearsal studio where the band practiced.  That made me chuckle.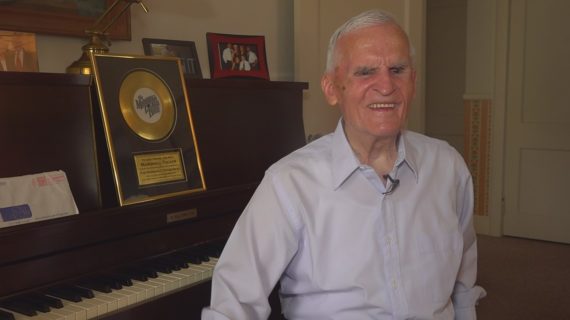 As of 2018, Marshall Tucker, 94 at the time, was still playing the piano every Sunday at the Calvary Baptist Church in Columbia, South Carolina.
And before you send me an e-mail regarding a different '70s rock band, I do know that no one in that band is named Lynrd Skynrd.  (Leonard Skinner was their high school gym teacher.)  Now, back to today's song.
"Can't You See" works, because the heartbreak woven throughout this song is authentic.  If you've suffered a broken heart, and you want to express your pain…and if you're a celebrated poet like, say, Edna St. Vincent Millay, you would compose an ornate verse about lost love; like this…
I know what my heart is like
     Since your love died:
It is like a hollow ledge
Holding a little pool
     Left there by the tide,
     A little tepid pool,
Drying inward from the edge.
Beautifully crafted, yes, but definitely written by someone who's had some time to think about it.  In "Can't You See," the pain is raw and recent.  Without the luxury of time to soften the heartache, maybe you ain't feeling all that eloquent, so you're a little more direct…
I'm gonna find me a hole in the wall.
I'm gonna crawl inside and die.
Ouch. You can't put it more bluntly than that.  When your world has been pulled out from under you ("…mean ol' woman, Lord, never told me goodbye"), you're not thinking clearly and forming beautiful lines of poetic anguish.  When the wounds are fresh, you're more likely to write a line like this:  "Gonna climb a mountain—the highest mountain, Lord.  Jump off.  Ain't nobody gonna know."
One of the things that's so appealing about this song is that Southern Rock bands tend to lean pretty heavily on a hard-partying, macho persona, but in this song, Toy Caldwell is not worrying about whether or not he's coming across like a bad-ass.  He's hurting, and he wants you to see.   ("Can't you?")
Do yourself a favor and take six minutes to sit back and savor this song.  Sure, there's a lot of testosterone on the stage, but these fellers ain't afraid to cry…or play the flute!  For that, I give 'em a lot of credit.