By 1985, Martin Scorsese had built an amazing portfolio.  He had directed Taxi Driver and Raging Bull, both at the top of every film critic's "Best Of" list for the 1970s and '80s, respectively.  He had also directed The Last Waltz, featuring The Band and celebrated as one of the best concert films of all time.  So in 1985, after all the acclaim and studio entanglements, Scorsese was itching to make an energetic, low-budget film and shoot it guerilla-style, like the ones he had made in film school.  He assembled a willing and able cast and crew and launched the whole thing out into the streets of Soho, working mostly at night, shooting from the hip and having a ball.
With a nod to The Wizard of Oz, the story follows the adventures of Paul Hackett, played by Griffin Dunne.  Like Dorothy who ran away from her black-and-white Kansas farm, Paul would like to escape his own monochromatic world.  Check out his all-beige apartment and wardrobe…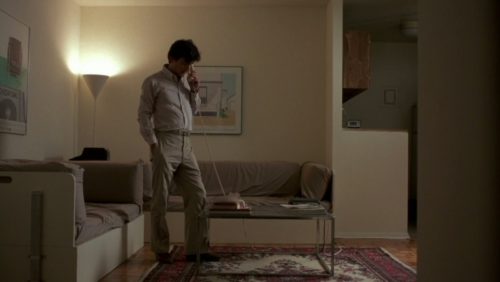 So!…when a chatty, blonde woman approaches Paul in a coffee shop, she seems like the perfect burst of sunshine to brighten his drab world.  Arranging to meet her at a loft in Soho, Paul is blown far from home via a chaotic and windy cab ride.  His Yellow Brick Road will be paved with trouble and weirdness when he steps out of that cab and into the dark side of the rainbow.
Paul does find the yellow-haired girl, but he gets more than he bargained for.  In fact, he will encounter four blonde women, each one more unpredictable than the last.  I won't say much more, because the fun of watching this movie for the first time is never knowing what's going to happen next or who Paul is going to meet.  These familiar faces all do their part to help make this movie a quirky masterpiece…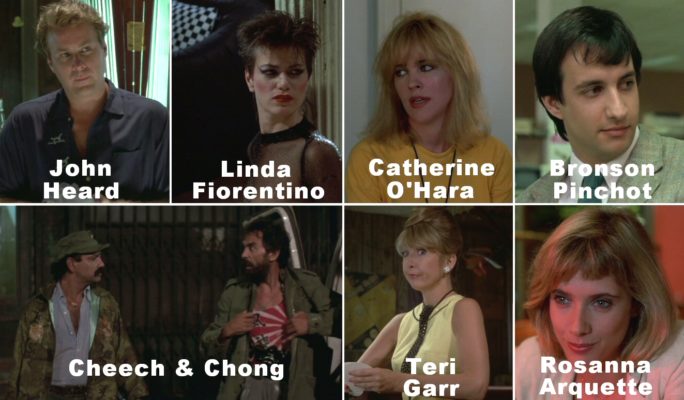 Paul's troubles begin when he dares to step out of his lane into a world where he does not belong.  Like Dorothy, Paul just wants to go home, be he won't get there until Soho is done with him, spitting him out and depositing him where we first met him.  He'll have made a complete circle, ending at the beginning and basically unchanged, save for the crushing epiphany that, like it or not, his bland world might be exactly where he is doomed to live.  Maybe the realization that he is trapped in a beige universe is a nightmare worse than anything he experienced in the disastrous night before.
I can't guarantee that you'll like After Hours, but you just might love it.  Small risk (only 97 minutes), great reward!  There is a lot to love about this movie.  Griffin Dunne, for example, is hilarious as a persecuted man who is trying to keep it together but whose frayed nerves are coming more and more unraveled as the night wears on.  Here he is trying to navigate a frustrating encounter with Catherine O'Hara…